Your Trusted Heavy Equipment Attachment Manufacturer Since 1945
Weldco-Beales Mfg. engineers and manufactures a variety of attachments specialized to the forestry, construction, road maintenance, mining, and resource industries, while continuously improving those designs. All WBM attachments are specialized to compliment the machine and the job in order to maximize productivity and enhance product service life.
Weldco's service-oriented approach is the foundation of our business. Our goal is to go beyond customers' expectations. We demonstrate honesty, integrity and ethical behavior in all of our business practices.
Weldco provides a work environment that maintains and supports a culture that emphasizes safe work practices, encourages ongoing training and education, embraces new challenges, and promotes interaction and empowerment. As a result we have been able to retain a highly skilled labor force over the long term.
How is Weldco Attaching Value?
BACKGROUND & EXPERTISE
Weldco has grown substantially from a small welding shop in Vancouver to operating four comprehensive manufacturing facilities located across Canada. Over the years, Weldco has attained a strong wealth of knowledge, experience, skills, and technologies to build value for its customers. This enables the company to continuously create and deliver unique solutions. With WBM, customers can be confident that they will always receive the highest quality products.
SERVICE & REPUTATION
Weldco is recognized throughout the industry for our ability to maximize customers' value through superior performance and outstanding service. Our service‐oriented approach is the foundation of our business. Our goal is to go beyond the customers' expectations.
ENGINEERING
Weldco designs its attachments to meet and exceed the expectations of the application it is intended to work in. Beyond our core offering, which is engineered to perform exceptionally well within an understood parameter of stress and loads, Weldco's reputation is built on supplying attachments that are custom designed and built for the unique application and environment they will be working in.
Weldco's in-house engineering and design team uses the latest CAD and Finite Element Analysis software to design and develop solutions to support diverse market applications. We can provide 3D solid models, in static or dynamic motion, on new products that enable you to view your attachment prior to manufacturing.
This ability to work with the dealer and their customer is what sets us apart from the competition. No other manufacturer in Canada has invested in engineering resources to the same degree as Weldco, with dedicated departments strategically located to provide regional support and service.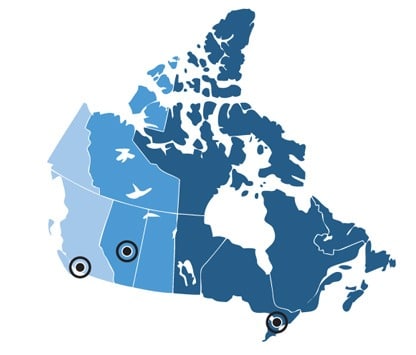 Plants and offices are conveniently located across Canada and the United States, offering a combined 255,000 sq.ft. of manufacturing space.

SAFETY CULTURE
Safety always comes first at Weldco; the safety culture that we have established over the years is proof that every employee understands the importance of adhering to the safety guidelines put in place, and their responsibility to keep themselves and especially their co-workers safe on the job.
We conduct our business on the principle that our work is never so urgent or important that we cannot take time to
do it safety.
All Weldco facilities are proudly COR® certified. The Certificate of Recognition program (COR®) is an occupational health and safety accreditation program that verifies a fully implemented safety & health program which meets national standards.

CONTINUOUS IMPROVEMENT
We are committed to continual growth and exploration of new opportunities while consistently providing products and services that meet customer and regulatory requirements.
WBM's Barrie, Edmonton, and Langley facilities are currently ISO 9001:2015 certified.
ISO 9001 is defined as the international standard that specifies requirements for a quality management system (QMS).
Using the ISO Standard helps us to:
Organize our processes
Improve the efficiency of processes
Continually improve

QUALITY PROGRAM
Weldco's skilled workforce of Journeymen and Apprentices in the Welding, Machining, Heavy Duty Mechanics, and Millwright trades are using the most contemporary fabrication and machining equipment.
All welders are CWB certified; our Division 1 certification means we have a welding engineer on-site, as opposed to on contract.
Every employee is responsible and held accountable for managing the quality of our product. Quality is monitored as jobs progress through the shop, and given a final sign-off before completion. Hydraulic components are always tested prior to completion.

Weldco-Beales Mfg. is a member of the Inuvialuit Development Corporation (IDC), which represents the Inuvialuit of the North West Arctic. Inuvialuit Development Corporation (IDC) is a 100 per cent Inuvialuit-owned for profit holding company, with a wealth of experience growing leader businesses in a variety of industries. IDC has cultivated a diversified, growth-oriented portfolio as the business arm of Inuvialuit Regional Corporation (IRC).