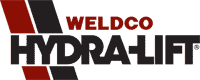 Weldco Hydra-Lift cranes are engineered and manufactured to CSA Z150 with the highest degree of quality and workmanship. As an industry leader, we stand strong behind our products. All boom weldments are performed by CWB Certified Welders and Welding Robots, and then inspected by a third party for quality assurance.
PARTS EXCHANGE PROGRAM
HOW IT WORKS
Bring your crane to our Edmonton Factory Service Centre and get the parts that you need installed. Our Factory personnel will then rebuild your old parts to a new standard for stock, which are backed by a six month warranty. The labour to exchange and the cost of the repair is paid by you. Digital photo records of the repair will be kept on file to verify the work required.
Parts can also be shipped to your facility or job site. Upon receipt of your old parts, you will be billed for the cost of repair and related shipping charges and credited for the cost of the new parts.
The following will be offered on an exchange basis:
Hoisting Cylinders

Extension Cylinders

Swivels

Outrigger Extension Cylinder

Outrigger Vertical Cylinder

Valve Banks

Winches

Pumps
SALES & SERVICE REPRESENTATIVES
SALES
Chris Buckley


Account Manager
Phone: (780) 454-5244 Ext. 5452

Mobile: (587) 336-7989

Barb Burlet


Inside Parts Sales
Phone: (780) 454-5244 Ext. 5317
SERVICE
Tom Powers


Service Technician
Phone: (780) 454-5244 Ext. 5339

Cell: (587) 341-5639
INSTALLATION & RIG UP
Complete installation and rig-up packages are available.
REPAIR CENTERS
Our continuous improvement philosophy has developed a culture that encourages new ideas and processes, provides the most value to our customer, and fully supports a safe work environment. As one of North America's largest and most respected manufacturers of truck mounted cranes, Weldco has the background, expertise, and commitment to support new industry demands.